The Florida electoral controversy and the subsequent decisions by the Florida courts and the U.S. Supreme Court left citizens and scholars alike divided over the role of the judiciary in the electoral arena. Now, after a few months of reflection, leading constitutional scholars—Cass R. Sunstein, Richard A. Epstein, Pamela S. Karlan, Richard A. Posner, and John Yoo, among others—weigh in on the Court's actions, which seem sensible, legally legitimate, and pragmatically defensible to some and an egregious abuse of power to others. Representing the full spectrum of views and arguments, these authors offer the most timely and considered guide to the ultimate consequences and significance of the Supreme Court's actions.
---
Read The Vote online now! You can get immediate online access to one of the most important books on the 2000 election controversy. Order your copy of The Vote now to read the online electronic draft edition and to participate in our online forum for reader responses. The book will be shipped to you by surface delivery.

Leading constitutional scholars render their verdicts on the 2000 election controversy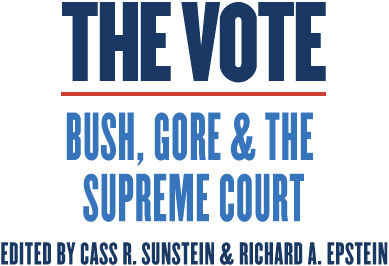 Now available as an online book
Table of Contents
—Read two free chapters—
Introduction: Of Law and Politics by Cass R. Sunstein
"In Such Manner as the Legislature Thereof May Direct": The Outcome in Bush v Gore Defended by Richard A. Epstein

Leaving the Decision to Congress by Elizabeth Garrett

Political Judgments by Samuel Issacharoff

The Newest Equal Protection: Regressive Doctrine on a Changeable Court by Pamela S. Karlan

Two-and-a-Half Cheers for Bush v Gore by Michael W. McConnell

Suspicion, or the New Prince by Frank I. Michelman

Democracy and Disorder by Richard H. Pildes

Bush v Gore: Prolegomenon to an Assessment by Richard A. Posner

Bush v Gore: What Were They Thinking? by David A. Strauss

Order without Law by Cass R. Sunstein

In Defense of the Court's Legitimacy by John Yoo
Afterword: Whither Electoral Reforms in the Wake of Bush v Gore by Richard A. Epstein
---
Ordering instructions
Buy the book, get the e-version free. To order your copy of The Vote click below. If you order online with Visa and Mastercard, you'll receive a password for online access to the electronic version of The Vote by return email. If you prefer to pay by check, download and print out the order form and mail it to:
The University of Chicago Press
E-commerce Manager/DB
1427 East 60th Street
Chicago, IL 60637
You will be emailed a password that allows you to access the electronic version of The Vote.
The Vote is $18.00 in paperback and $42.00 in cloth—buy either and get free access to the draft edition online. The essays in this electronic version have now appeared in final form in the print version of The Vote: Bush, Gore, and the Supreme Court. The draft versions may contain a few typos, and the authors may have revised their essays.